Chalvignac, distributor of Oenopompe in Cognac
Press release
PMH Vinicole is moving up a gear and expanding its network of distributors in Charente
December 2020 : The Lyonnaise company continues to expand and announces a major representation agreement with the CHALVIGNAC Equipements company, distributor in Charente.
Qualified since 2016 by the BNIC* in Cognac, the famous OENOPOMPE helical lobe pump has met with keen interest from producers and alcoholics in the Cognac appellation area. Local sales made possible thanks to the work of three historical distributors, the companies PROMETAL, THOUARD and VITIDIRECT.
Today and in order to meet the ever-growing demand, in a geographical area including departments Charente and Charente Maritime, Lionel Corgié, the manager of PMH Vinicole, has chosen to move up a gear by signing an additional representation contract with the emblematic distributor, CHALVIGNAC Equipements located in Châteaubernard, south of Cognac.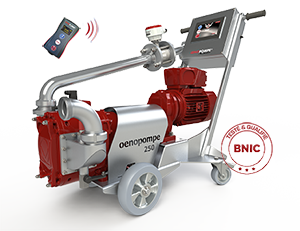 A very important agreement which augurs a strategic growth relay beyond the geographical area of the two departments in Charente, because of the international scope of the CHALVIGNAC Group and its positions in the closed world of alcohol.

An opinion shared by Mathias Chartier, Commercial Director of the CHALVIGNAC Group, who testifies to his keen interest in the rapprochment with PMH Vinicole:

"We want to offer our Charentais customers a range of very high quality equipment, dedicated to the transfer of wine. Being used to sale the PMH ogive pump', the entire CHALVIGNAC team is enthusiastic about the idea of marketing the OENOPOMPE and
to work with PMH Vinicole teams, recognized for their listening skills, their presence in the field and for constantly innovating for the benefit of their customers.
This distribution agreement is also a major factor for us because working with a strong and innovative partner allows us to strengthen our presence locally but also outside our borders with a demanding and globalized industry. "
 *Bureau national interprofessionnel du cognac