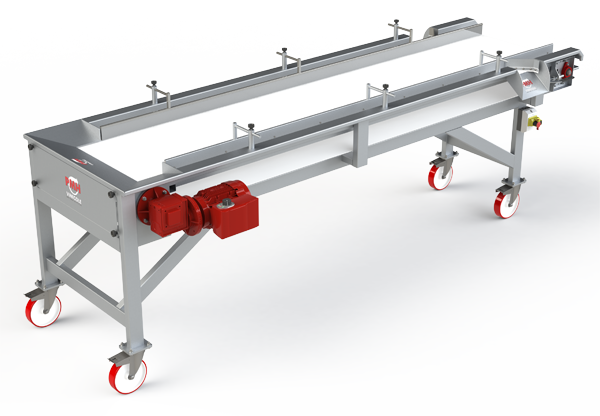 The grape sorting table: tried and tested equipment
Belt or vibrating sorting tables, placed after de-stemming, are designed to eliminate petioles, stems, spoilt and shot grapes, and insects from the grapes.
PMH Vinicole has two grape sorting tables models available.
The belt sorting table (picture)
The table has a smooth conveyor belt made of food-grade PVC, which wraps around two axes and allows the grapes to be sorted at a selected speed.
This grape sorting table has two different belt widths, 600 and 800 mm, and a belt length from 3,000 to 8,000 mm, according to the number of people who will be sorting.
The vibrating sorting table
The table's vibration allows the grape to be spread out in order to facilitate sorting. The horizontal vibrating table mounted on "silent blocks" is equipped with perforations and a drip tray for the first juices. Beneath this sits a juice collection tank, mounted on the chassis together with a transitional grating to collect small foreign bodies.This model enables the draining, equalisation and sorting of the grapes. This sorting table is 750 mm wide and has a length from 1500 to 5000 mm, according to the number of people who will be sorting.
Watch our vibrating table presentation video
2007 vintage, Condrieu AOP, Louis Chèze winery. Grape variety: Syrah (Shiraz)
Grape sorting tables generic physical and technical characteristics:
Structure entirely made of stainless steel, AISI 304
Advance and return motion control by contactor
Off position can be locked, 10 metres extension cable
Motor with electronic speed reducer
Optional equipments:
Integrable reception hoppers
Extension legs, to 1,400 mm under the table
Walkways
Stairs, etc.