April 2016: Tested and qualified by the BNIC from Cognac
Wine pump OENOPOMPE®: tested and qualified by the BNIC
April 2016: PMH Vinicole announces that its elastomer component of the helical lobes OENOPOMPE®, has been tested and qualified by the Bureau National Interprofessionnel du Cognac (BNIC).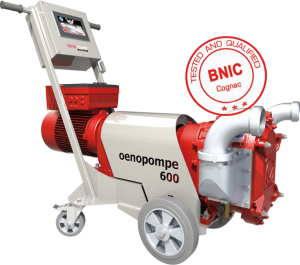 Under the impulse distributors, and strong demand from its Charentais clients seeking a wine pump compatible with Cognac, the French manufacturer PMH Vinicole developed after 5 years of testing and development, an elastomer compatible with food contact for the brandies of Cognac. A development which successfully passed the severity of the specifications of the BNIC which last 4 years hardens the conditions of test with a contact in alcohol at 70% vol. and over a period of 10 days at 40 ° C.
The development of this elastomer and this BNIC accreditation brings a guarantee for distilleries and a quality pumping solution to the requirements of handling for super premium brandies as armagnac, calvados, whiskey, marc, grappa, rum and other.
OENOPOMPE®: a wine pump which constantly innovates
Already responding to the strictest standards of food security (Regulation 1935/2004 EC), the will of the PMH Vinicole business to satisfy customers requesting premium pumps on the Charente, is the origin of this success got with BNIC.
This result also confirms the pioneering of helical lobes wine pump OENOPOMPE®. A cellar equipment designed in 2009 and now used by over 300 wineries worldwide (+ 70% more clients since 2015).
Moreover, a wine pump which has continued to evolve and to experience significant technical improvements:
– 2009: creating of OENOPOMPE®, a wine pump that dissolved oxygen less than 5 times compared to an equivalent wine pump on the market (see article from La Vigne Magazine Feb.2014)
– 2011: adding a remote control and the 1st onboard pump controller
– 2013: evolution to a waterproof remote and highly resistant with high frequency WiFi
– 2014: 1st manufacturer to ship a flowmeter, OENOFLUX®, and a flow control by temperature and pressure
– 2015: INOX frame varnish treaty and lifetime warranty, remote control with digital display and recharging by induction, automatic management into barrels, color touchscreen
– 2016: testing and approval by the BNIC, changing control software
– 2017: contact the firm for more information …
PMH Vinicole: traditional materials and innovative solutions


After the 2009 launch of the range OENOPOMPE®, PMH Vinicole innovates again in 2016. With this recognition of BNIC in Cognac, the Lyon company, historically focused on manufacturing harvest reception equipment since 1835, confirms its intention to combine traditional materials and innovative solutions in a reliable and modern offering, with a strong experience and the latest technological advances.