Electronic remote control: OENOTELEC®
The OENOTELEC®: An innovation from PMH Vinicole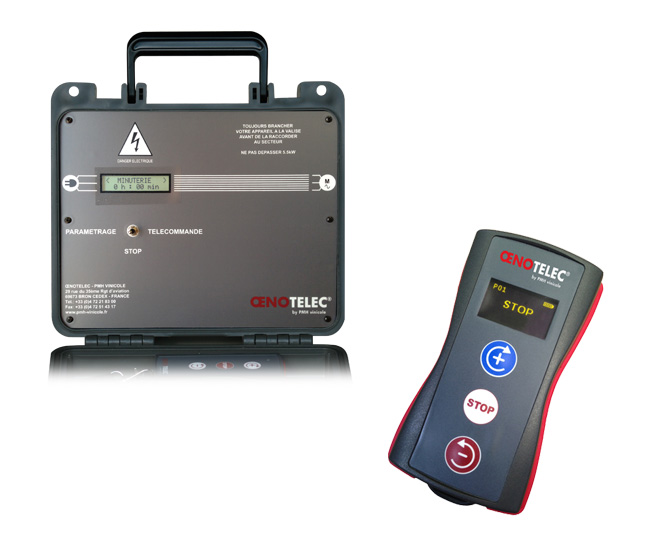 A multi-functional remote control
In response to requests from our customers and distributors for a reliable, resistant and durable remote control, and after a year of intensive R&D work, PMH Vinicole has perfected a remote controlled plug named OENOTELEC ideal for the remote control of three-phase electrical equipment. The system has been specifically designed for winery operation.
OENOTELEC consists of two modules, a portable box connecting the power source and the machine to be controlled – and a remote control with its necklace.
OENOTELEC is available in two models : 5.5 and 11 kW.
OENOTELEC enables all makes of three-phase electrical machines in the winery to be controlled.
OENOTELEC®: Original features compared to its competitors
Adapts to any equipment and all makes
Watertight and ultra-strong
No possible interferences with other electromagnetic sources
No maintenance other than recharging a 9V battery
Elegant design, clever ergonomics
The introduction of an adjustable timer is a real innovation.
Optimized range up to 500 meters
Made in France, 2 year guarantee
Interview with Jonathan Scott, cellar master at Domaine Georges Vernay in Condrieu: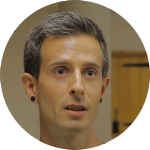 « The first time we used the Oenompompe with the remote control, we thought maybe it was luxury. But in fact it's absolutely indispensable, because we don't have to be next to the pump to turn it on or off, and that's really good.»
Excerpt from the «OENOPOMPE® by PMH Vinicole» video: click here to view (starting from 1'53")
Are you interested in OENOTELEC®?